The Strandzha Massif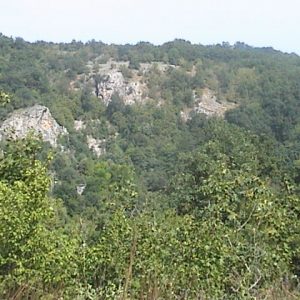 The Strandzha Massif is situated in the southeastern part of the Balkan Peninsula. It stretches parallel to the Black Sea coast from the town of Bourgas in the north to Istanbul in the south. Its area is 10,000 sq km. The Bulgarian part of Strandzha's relief is that of the low mountains characterized by many round-shaped peaks and ridges and crossed by many ravines in the water catchment area of the rivers.
The two main ridges – the Rezovo Ridge and the Bosnia Ridge – have key positions in the Massif. The highest peak in the Bulgarian part is Gradishteto. It is 710 m above the sea level. The two main river arteries in this area are Veleka and Rezvaya. Veleka River rises in the Turkish territory and is 147 km long. It enters the Bulgarian territory through a beautiful rocky gorge with many meanders at the village of Moryane. The river in this part is very mountain-like with a rocky bottom, many fast streams and densely forests around it. In the lower part of the river a lot of tributaries flow into it making it wide with a lot of meadows. It flows into the Black Sea through a beautiful estuary which in full water overflows and spills over the riverside forest thus turning it into a typically dense forest.
Rezvaya River is less known. It is a border river and, therefore, it is still well-protected. It also rises in Turkish territory under Mount Mahiyada. It collects the waters of some of its tributaries and flows towards the Black Sea. The river flows between virgin forests in beautiful meanders until it reaches its mouth at the village of Rezovo. There are a large number of karst springs in the central part of Strandzha.
Geologically, the park area is very interesting with its varied rock formations. Here one can see sediment rocks, metamorphites and igneous rocks all in one place. Here one can also find tuff, andesite, sandstone, gabbro, diorite, gneiss, slate, limestone, marble and granite. The western part of the park is taken entirely by a vast rocky karst region. Massive rock formations, rocky gorges and chasms form a number of massifs and hillsides here. There are also a lot of rock formations,
fissures and chasms many of which are not yet researched.
Despite its little altitude, Strandzha's relief is heavily indented and attractive. Interesting geological processes are under way in the seaside territory which sinks slowly with about 2-3 mm per year.