The capital – Sofia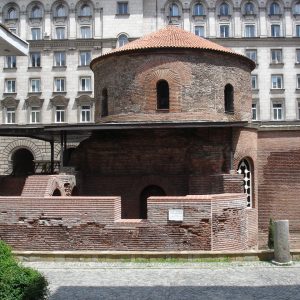 Sofia is situated in the middle of western Bulgaria, in the Sofia Valley, 550m above sea level, at the foot of the Vitosha and Liulin mountains.
The city's former name used to be Serdica (Serdicae) coming from the name of the Thracian tribe Serdi, and dating back to an ancient Thracian settlement of the Bronze Age. In II–I c. B.C. this settlement developed into a market town around a mineral thermal spring, captured in II c. and still functioning today in the center of modern Sofia. In V – VI c. during the so-called "Great migration of peoples" the city lived through successive raids by Huns, Goths and other Barbarian tribes. Since the middle of the 4th century it developed into an important administrative and economic center of the Byzantine Empire under the name of Triaditsa.
In 809 it became part of the Bulgarian kingdom and was given the Slavic name of Sredets. From the late 15th c. to the 1870s the city, like the entire Bulgarian state, was under Ottoman rule. Sofia was liberated on 4th January 1878. At that time the city's population numbered no more than 12 000 people but in spite of that fact on 4th April 1879 it was declared as the nation's capital.
Today it is a major political, economic, cultural and transport center with 1 116 823 residents. Industries include ferrous metallurgy, machine-building, chemical, textile, food&beverage, printing industry. Sofia is also  the largest transport center in Bulgaria, connected to Europe and Asia by railways and roads.