Mountain biking in Bulgaria
MTB in Rila and Rhodope mountains
Come and enjoy an seven-day mountain bike tour through the unforgettable mountain paths of Bulgaria. Discover the contrasting landscapes of the mountainside and its lush nature. Visit cities and villages with cultural and historical heritage that will leave you bewildered. Seven days to leave everything behind and have a two-wheel adventure.
ITINERARY
Day 1.  Arrival at Sofia airport. Transfer from the airport to the hotel. Dinner.
Presentation of the program and the guide/s.After the flight to Bulgaria we provide for one day on Bulgarian territory for acclimatization, rest and a glass of good Bulgarian wine. You will meet your guides personally; they will introduce you in detail to the program, geography and history of our country.
Accommodation: hotel in Sofia
Day 2.  MTB Yarema – Govedartsi village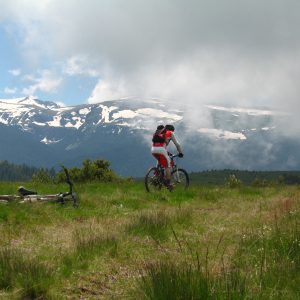 In the first day of our tour we will get on the bikes just 40 min after we get out of the hotel – on the southern slopes of Vitosha mountain. The first 9 km/5.6 miles we will ride following a dirt road with smooth climbs and descents to warm up. Passing through the village of Yarlovo we continue biking for a few kilometers climbing slightly on road that will take us to the ridge of the second mountain for today – Verila. Following its main ridge for the next 30km/18.6 miles we descent through pastures, pine forests and open meadows with great views of the next mountain that awaits us – Rila. And just after having lunch in the village of Klisura, we enter into the vast debris of Rila mountain. The beginning might be a bit stressing as we have a 3km/2 miles steep climb on a dirt road that sometimes can be quiet muddy, but soon we will put down the seats and prepare for a sweet descent (13 km/8 miles) to the village of Govedartsi, where we will stay overnight.
Accommodation: family hotel in villige of Govedartsi
Distance: 56 km/34.8 miles
Off- road:70 %
Climbing: 680 m
Descending: 830 m
Drive time: 40 min
Day 3.  MTB Borovets – Zavrachitsa – Yakoruda
Today is the most challenging day of the program as we will ride through one of the highest and most adventurous mountain bike routes in Bulgaria – called the Kaiser's road, a high mountain passage in Rila mountain at 2500 m a.s.l.
We will have a short transfer to skip climbing on the busy asphalt road leading to Borovets mountain resort. Here we go off road and dive into the debris of the mountain, continuing our way towards the top. The route follows a dust road in the beginning climbing smoothly for 8 km/5 miles in the calm shadows of the pine forests until we reach Chakar voivoda hut. After a cup of tea in the hut we continue on a very interesting section of a single track (6km/3.7 miles) that curves up and down, passing through small streams and wooden bridges hanging above steep rocky hills. The final 1.5-2 km/1mile before Zavrachitsa hut are on a road with some quiet big stones so we may have to push the bikes as riding them wouldn't feel so good. The lunch in the hut might be some of the most tasty meals you've had.The last 3 km/2 miles of the climb towards Zavrachitsa passage are on a nice grassy road with breathtaking views of the surrounding summits. As we slowly climb on the top, the mountains totally uncovers its unique and virgin beauty. And here comes the most thrilling part of the ride – a furious descent on single track, traversing the rocky slopes of the peaks above us.  In 7.5 km/5 miles we will pass along another mountain hut and we continue descending on a nice dirt road (10km/6.2 miles), that turns into asphalt which we follow for 15 km/9 miles until we reach our hotel in the small town of Yakoruda. The hot mineral water pool is just the perfect reward for this epic day of biking!
Accommodation: hotel in Yacoruda region
Distance: 65 km/41 miles
Off-road: 75%
Climbing: 1080 m
Descending: 1560 m
Drive time: 20 min.

Day 4.  MTB Konarsko village – Dospat
After a 15km transfer we get on the bikes in the village of Konarsko leaving behind Rila mountain and looking forward Rhodope mountains . The biking starts with some 7 km/3.5 miles of sandy dirt road, biking through a few small muslim settlements, untill we reach the highest point of the day at Veliitsa summit. For the next 15 km/9.3 miles we will be riding on the main mountain ridge making nimerous gentle ascents and descends with amazing open views of Rila, Pirin and Rhodope mountains. After passing through the village of Medeni Poliani we continue to ride on asphalt for the next 8 km/5 miles until lunch at Pobit Kamak village. After lunch we continue the ride for today with some 15 km/9.3 miles of descending on paved road to get in the village of Sarnitsa. After a short break for a snack we continue with another 16 km/10 miles of dirt road that follows the beautiful bank of Dospat dam lake, and finally we reach the hotel after 4 km/2.5 miles ride along a paved road. Cleaning of the bikes. Dinner.
Accommodation: hotel in the town of Dospat
Distance: 75 km/47 miles
Off-Road: 60%
Climbing: 800 m
Descending: 600 m
Drive time: 20 min.
Day 5.  MTB Dospat – Trigrad
We start our MTB trip directly from the hotel on a paved road climbing easily for 8km/ 5 miles, to take pictures with the greatest view on the lake after. After 4 km/2.5 miles the road turns into a dust one, slightly descending along the bank of a small river (10 km/6 miles). Chance for taking pictures of an ancient Roman bridge on the way. We continue crossing potato fields and shepherds' songs and after 18 km/11 miles we get in Buinovo village. Lunch at the main squire. The bike ride goes on passing 5.5 km/3.5 miles of gentle ascent on a mixture of paved and dust road and another 2 km/1.3 miles of steep climb. 14 km/9 miles of thrilling descend to Trigrad village put an end of the day trip. Cleaning of the bikes. At dinner time the landlady (Latinka) cooks for us her specialty – "moussaka" dressed up with home made yogurt…
Accommodation: Guest house in Trigrad village
Distance: 64 km/40 miles
Off-road: 85%
Climbing: 960 m
Descending: 970 m
Day 6.  MTB Trigrad – Shiroka Laka
Today we explore the "Devil's throat" cave. After 3 km/2 miles of descend along a paved road we leave the bikes in front of the cave. Entrance through an artificial tunnel into the Devil's throat… After that we get on the bikes again to start a long but gentle climb (13 km/8 miles) near "Chairski lakes" – protected area with 7 magical lakes formed by melting glaciers during the Ice Age. Rewarded with the vast view from the top we descend to the village of Mugla (9km/5.5 miles). The local mosque has a unique wooden minaret. Lunch in Mugla. The afternoon continues with another climb on a mixture of asphalt and dirt road (9km/5.5 miles) followed by picturesque and amazing 6 km ride on a flat road traversing the highest ridge of Rodopi mountains. The 10 km/ 7 miles downhill to Shiroka Laka village is just the perfect end of this remarkable trip. Cleaning the bikes; transfer to Sofia.
Accommodation: hotel in Sofia
Distance: 50 km
Off-road: 95 %
Climbing: 1070 m
Descending: 1040 m
Drive time: 2 hours approx.
Day 7.  Sofia city tour (optional)
Free time for last minute shopping. Transfer to Sofia airport.