The highest peak in Bulgaria and Rila monastery
Four days in which we would like to show you some of the most celebrated, beautiful and emblematic sites in Bulgaria. From the luxury of the hotels at the international skiing centre Borovets, you will be carried to the unique atmosphere of the "Ledeno ezero" alpine shelter, you will climb up the highest peak on the Balkans and will see the pearl of Bulgarian East – Orthodox monasteries: the sacred cloister of Rila.
Programme details
Day 1
Arrival in the capital – Sofia. Visit to the Vitosha Mountain and The Dragalevsky Monastery. Transfer to Borovets – 90km (56 miles).
Sofia is the only European capital, which is situated at the base of a mountain higher than 2,000m.
The Dragalevsky monastery is located on the northern slopes of Vitosha Mountain. It was founded by Tsar Ivan Alexander. The church at the monastery, The Virgin Mary, dates back to the XV century.
Accommodation:Hotel in Borovets
Day 2
Transfer by chair – lift close to the base of Mussala Peak. Climbing up Mussala Peak (2,925m).
Mussala Peak (2,925m) is the mountain top on the Balkan Peninsula.
Duration: 4 – 5 hrs. Height displacement: 625m.

Accommodation: "Ledeno ezero" Mountain Refuge
Day 3
Return by chair – lift to Borovets. Transfer from Borovets to The Rila Monastery – 100km (62 miles). Visit to the Monastery. Transfer to Sofia 130km (81 miles). Sightseeing in the city.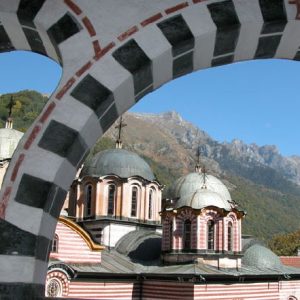 Rilski Monastery is the most famous and visited monastery in Bulgaria. The modern monastery complex is the second of importance religious center on the Balkan Peninsula. ItВ's situated in the heart of the Rila Mountain at the height of  1,100m, and is 120 km (75 miles) south of Sofia.
Sofia is a main political, economical, research, cultural and transportation centre of Bulgaria. It has a population of 1,200,000 residents.
Accommodation:Hotel in Sofia
Day 4
Spare time for last minute sightseeing or shopping,
Transfer to airport for return flights.