Short trekking in Bulgaria
A programme which combines culture, traditions and folklore together with one of the most beautiful alpine areas in Bulgaria – Vihren Peak (2,914m) in the Pirin Mountains. The programme also includes visits to the attractive towns of Bankso, Sandansky, and Melnik. We have to mention that the incredible cuisine of the Pirin Region, will leave you with pleasant memories and new ideas and ways to cook back home.
Programme details
Day 1
Transfer to the town of Bansko 155km (96 miles) from Sofia. Sightseeing in the town. Dinner at a traditional "mehana" (tavern) in Bansko.
Accommodation: Hotel in Bansko
Bansko is an interesting site providing well-preserved houses dating back to the Bulgarian National Revival period, a number of picturesque taverns, where traditional Bulgarian folklore music can be heard.
Day 2
Transfer to Vihren Mountain Hostel. Climbing up the Vihren Peak (2,914m). Descending to the Popina Luka Area (1,300m). Transfer to the town of Melnik. Dinner and wine tasting.
Vihren Peak is the second highest peak in Bulgaria and the highest one in the Pirin Mountain, located in an area rich in limestone and marble deposits.
Melnik is the smallest town in Bulgaria. It was made a cultural and historical reserve and a museum-town in the second half of the 20th century. The rich red wine, made in mediaeval houses and the wonderful sand pyramids around the area contribute to the marvelous atmosphere of the site.
Positive displacement: 1,000m; descending displacement: 1,614m

Accommodation: Hotel in Melnik

Day 3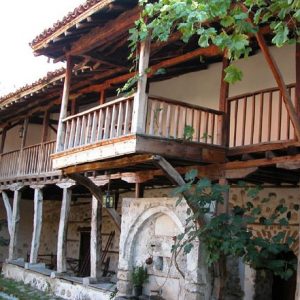 Trek to the Rozhen Monastery through the sand pyramids. Visit to the Monastery. Lunch in the village of Kurlanovo. Trip back to Sofia – 180km (112 miles).
The Rozhen Monastery is one of the few medieval temples, which has kept its original architecture since it was build and has also preserved its monumental paintings.
Trek Duration: 1:30 hrs
Accommodation: Hotel in Sofia
Day 4
Spare time for final sightseeing or shopping.
Transfer back to airport.